Why do we select au pairs from the Philippines
Why do we select au pairs from the Philippines
First and foremost, we are of Filipino origin ourselves. Even our staff members in Holland (Shyrell van Galen – Navarro and Wendy Gonzales) are Filipino and both even came to the Netherlands as an au pair themselves. Naturally, this makes selection of au pairs from the Philippines easy and enjoyable for us. We are very proud to bring our Filipino culture to Holland.
In addition to our own origins, we also really believe that au pairs from the Philippines have to best characteristics for making the exchange program a successful and enjoyable experience for both themselves and the host family. Filipino's are known for their extremely sweet, responsible, humble, trustworthy and caring character. They learn from an early age onwards to take care of their siblings and senior family members. They do this with great care and love. Anyone who has had a Filipino au pair will confirm this without any doubts!
Another great benefit of the Philippines is that English regarded as the second language. This ensures that as Filipino au pair you can communicate well with the host family. If the host family has children, they may have the additional benefit of practicing English with you as an au pair.
As the financial situation is much worse in the Philippines than in the Netherlands, the salaries are much lower in the Philippines. For many Filipinos it is an impossible dream to come to Europe and experience the culture. The host family can therefore count on their Filipino au pair to have a grateful attitude, because the family has converted her dream into reality. This contributes more so to a good relationship between you as an au pair and your host family.
As our staff members are of Filipino origins, we know exactly how to communicate with you as an au pair; we have the same background as you, we speak Tagalog (and maybe even your dialect) and have experience ourselves as an au pair. This allows us to function as an excellent confidante for you, so that any possible problems can be identified and resolved as early and quickly as possible. We really want to make sure that you feel good during and enjoy the program.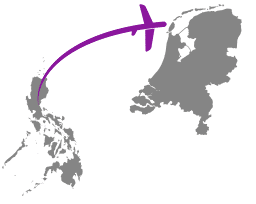 Besides our Dutch office we have our own department in the Philippines who takes care of the applicants and preparation of au pairs in the Philippines. Because we keep the process completely in-house and do not outsource this to another company, we are assured that our au pairs meet our requirements. We are also assured that this process is executed honestly and in compliance with Dutch and Filipino law, without the au pair being exploited or abused by a foreign recruitment agency. We there request you as an applying au pair therefore no entry fee, deposit or contribution to the training you receive from us; these are entirely at our expense.